Chandigarh, the capital city of the northern Indian states of Punjab and Haryana, is known for its modern architecture and well-planned layout. If you're planning a trip to this vibrant city, you'll want to make sure you visit the best tourist spots. From beautiful gardens to architectural marvels, this guide will help you discover the top places to visit in Chandigarh and plan your itinerary accordingly.
Rock Garden: Explore the unique sculptures made from recycled materials.
One of the must-visit tourist attractions in Chandigarh is the Rock Garden. Created by artist Nek Chand, this unique garden is home to a collection of sculptures made from recycled materials. As you wander through the garden, you'll be amazed by the creativity and craftsmanship that went into each sculpture. From waterfalls to pathways lined with colorful mosaic tiles, the Rock Garden offers a truly unique and immersive experience. Don't forget to bring your camera to capture the beauty of this one-of-a-kind attraction.
Sukhna Lake: Enjoy boating and serene views at this beautiful man-made lake.
Sukhna Lake is a popular tourist spot in Chandigarh, known for its serene beauty and recreational activities. The man-made lake offers a peaceful escape from the hustle and bustle of the city. Visitors can enjoy boating on the lake, with paddle boats and rowing boats available for rent. The calm waters and picturesque surroundings make it the perfect place to relax and unwind. Whether you're looking to take a leisurely boat ride or simply sit by the lake and enjoy the views, Sukhna Lake is a must-visit attraction in Chandigarh.
Rose Garden: Admire the vibrant colors and fragrant blooms of thousands of roses.
The Rose Garden in Chandigarh is a paradise for flower lovers. Spread over an area of 30 acres, this garden is home to thousands of rose bushes, showcasing a wide variety of colors and fragrances. The garden is meticulously maintained and offers a breathtaking sight when the roses are in full bloom. Visitors can take a leisurely stroll through the garden, admiring the vibrant colors and intoxicating scents. The Rose Garden also hosts an annual Rose Festival, where visitors can enjoy cultural performances, competitions, and exhibitions. Whether you're a nature enthusiast or simply looking for a peaceful escape, the Rose Garden is a must-visit attraction in Chandigarh.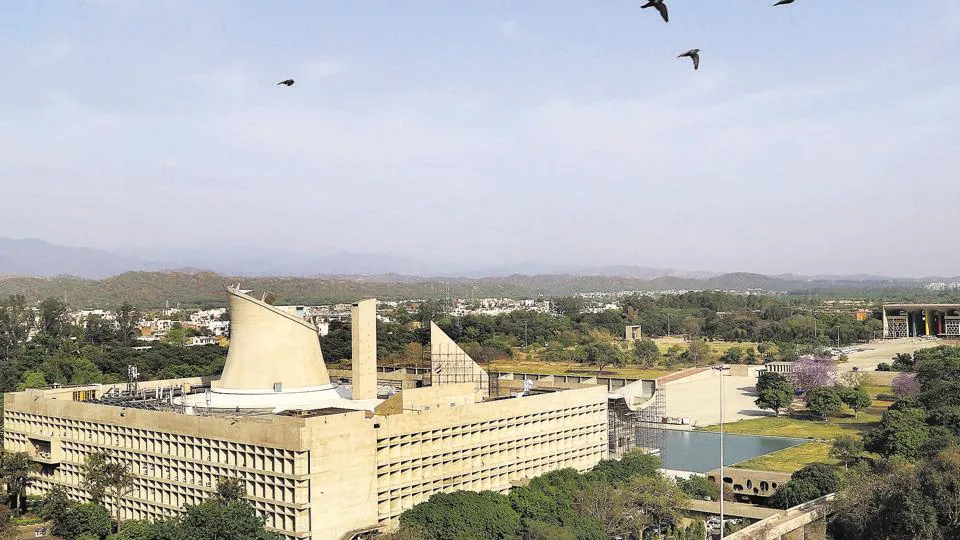 Capitol Complex: Visit the architectural marvels like the Secretariat, High Court, and Assembly.
The Capitol Complex in Chandigarh is a must-visit for architecture enthusiasts. Designed by renowned architect Le Corbusier, this complex is a symbol of modernist architecture. It houses the Secretariat, High Court, and Assembly buildings, which are known for their unique and innovative designs. The Secretariat building, with its distinctive concrete fins, is a striking sight. The High Court building, with its elegant columns and spacious interiors, is a testament to the grandeur of the judicial system. And the Assembly building, with its circular shape and open spaces, is a symbol of democracy. Visitors can take a guided tour of the complex to learn more about its history and significance. Don't miss the opportunity to explore these architectural marvels when visiting Chandigarh.
Pinjore Gardens: Take a stroll in these Mughal-style gardens with beautiful fountains and pavilions.
Pinjore Gardens, also known as Yadavindra Gardens, is a popular tourist attraction in Chandigarh. These beautiful Mughal-style gardens are spread over an area of 100 acres and are known for their stunning fountains, pavilions, and lush greenery. The gardens were built in the 17th century by Nawab Fidai Khan, and they have since been meticulously maintained and preserved. Visitors can take a leisurely stroll through the gardens, enjoying the serene atmosphere and admiring the intricate design and architecture. The gardens also have a mini zoo, an amusement park, and a Japanese garden, making it a perfect destination for a day out with family and friends. Don't forget to capture some memorable moments amidst the picturesque surroundings of Pinjore Gardens.